For Master Instructor, Evgenia Kabanova, Animal Flow is more than a physical practice. Over the past four years, it has been a major focal point of her career, studies, and life.
Driven by her background as an ex-professional athlete and an undeniable passion for Animal Flow, Eve decided to pursue a Masters Degree in Physical Culture and Sport, conducting and presenting original research using the Animal Flow program as her dissertation.
She graduated in December, and has now relocated to Kazakhstan where she is leading the effort to develop Animal Flow in that country and surrounding areas.
Eve is now one of only a handful of researchers around the world studying the relatively new field of Quadrupedal Movement. We asked her to share the study's thesis, methodology, and findings with us. In addition to the article below, in the coming months Eve will also be presenting the findings in an Animal Flow webinar available to the general public.
---
Why study Animal Flow?
When I entered Tyumen State University as a student in 2019, I was a Level 1 Certified Instructor. I already knew that I wanted to conduct my research on Animal Flow as it would provide a chance to gain an even deeper understanding of the program. I also wanted to contribute to the growing, but still young, body of scientific evidence behind AF.
Many of the clients that I train are women in their 30s, so it made sense to me to focus on this specific group for my dissertation. With the topic decided upon ("Contents of wellness workout of women aged 30-35 years old, training with Animal Flow program"), I approached my clients with an invitation to become subjects of the study.
When I originally began my research, I was aware of only two other studies that had been (or were being) conducted specifically using Animal Flow.
One conducted by Matthews et al. (2016) looked at a four-week program of Animal Flow and how it impacted cognitive function and joint repositioning sense. A second study of eight weeks' duration (Buxton et al., 2020) looked at the effects of quadrupedal movement in healthy young adults.
The principle researcher in the 2020 study, Dr. Jeff Buxton, is also a Certified Instructor from the US. At the time, he was finishing his current research on Animal Flow and I was really inspired by Jeff's work. Hearing him present his results assured me of the opportunities and benefits of conducting research on such a new topic area.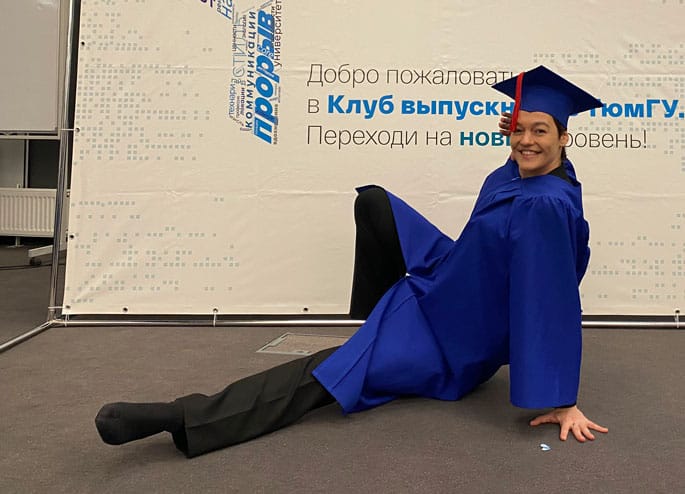 Merging Animal Flow with the demands of research was a labor of love for Eve Kabanova.
Conducting the study
The entire study took almost two years to complete, including work on scientific literature and processing research data. The experiment itself, which is the focus of this article, lasted two months.
The goal was to observe any improvements in the physical abilities and motivation of subjects. I was particularly interested to see if a regular Animal Flow practice would influence the adoption of a healthier lifestyle and their involvement in other physical activity.
I had two experimental groups (EG):
EG-1: 12 women, aged 30-35, fitness enthusiasts (beginners)
EG-2: 5 women, aged 30-35, former professional athletes (acrobatics, athletics, rhythmic gymnastics, bodybuilding and volleyball). Both myself and my scientific director were two of the subjects in this group, along with three other Certified Instructors.
We conducted a two-month training period with both groups which included:
One x 2-hour training session with a Master Instructor every Sunday.
One x homework (HW) submission after each session (submitted by Thursday, and resubmitted by Saturday if corrections were required).
All EG-2 subjects had an additional HW piece that was to be submitted via video each week. This task was taken from the Animal Flow Certified Instructor Facebook group and varied in duration and complexity from week-to-week.
Weekly training sessions
The Sunday training sessions consisted of the following exercises, taken from Animal Flow's Six Components.
(
AF Component
, Experimental Group 1, Experimental Group 2 )
Wrist Mobilizations
7 Mobilizations
Each performed for 90 seconds
7 Mobilizations
Each performed for 40-60 seconds
Activations
3 Beast and 3 Crab Activations
Each performed for 2-4 seconds
3 Beast and 3 Crab Activations
Each performed for 10-20 seconds
Traveling Forms
2-3 Traveling Forms
Each performed for 8-10 repetitions
Performed in respond to a Russian language Call Out
14 Traveling Forms
Each performed for 8-10 repetitions
Performed in response to an English language Call Out
Form Specific Stretches
2-3 Movements
Each performed for 4 repetitions plus 4 times in a Flow
Movements were performed fluidly, without pausing in end range positions
Performed in response to a Russian language Call Out
2-3 Movements
each performed for 4 repetitions plus 4 times in a Flow
Movements were performed with a 5-10 second pause in end range positions
Performed in response to an English language Call Out
Switches and Transitions
1-2 movements (L1 only)
Each performed for 4 repetitions plus 4 times in a Flow
Performed in response to an English language Call Out
18 movements (L1/L2)
Each performed for 4 repetitions plus 4 times in a Flow
Performed in response to an English language Call Out
Flow
Flow type/s:
Call-out
1.5-2.5 mins per Flow, depending upond the speed of the Call Out and performance
Performed in response to an English and Russian language Call Out
Flow type/s:
Call-out
Choreographed Flow
Free Flow
1.5-2.5 mins per Flow, depending upon the speed of the Call Out and performance
Performed in response to an English language Call Out
EG-1 had an increased time for Wrist Mobilizations and decreased time spent on Activations. This was due to the group being comprised of more novice Flowists who were less conditioned to exercise overall.
By contrast, EG-2 performed more movements per session, at a faster pace, and incorporated more complex tasks such as designing group Flows. This combination of factors resulted in a higher volume of activity per session when compared to EG-1.
Assessments on physical abilities and motivation
We ran a selection of tests on physical abilities and motivation at the beginning and end of the experiment. The results were compared with the aim of seeing if there were any improvements over the eight weeks. Results were not compared between the two groups or with a control group and instead focused on improvement within each group.
Physical Ability Tests
Static Balance (Romberg Test): Subjects stand on one leg in a specific position with eyes closed. The time spent successfully holding the position is recorded.
Dynamic Balance: Subjects hinge forward and rotate on the spot for 15 seconds with eyes closed. Opening their eyes, they stand and must successfully walk the length of a 5m/16ft corridor.
Shoulder Mobility: Subjects held a stick in both hands and brought it overhead and behind the back, keeping the hands as narrow as possible.
Spinal Mobility: Subjects began on their backs and performed a full bridge by pressing hips upward. With knees and elbows extended, the distance between their hands and feet was measured and recorded.
Explosive Power: A standing forward jump was performed with subjects taking-off and landing with two feet. The goal was to jump as far as possible.
Results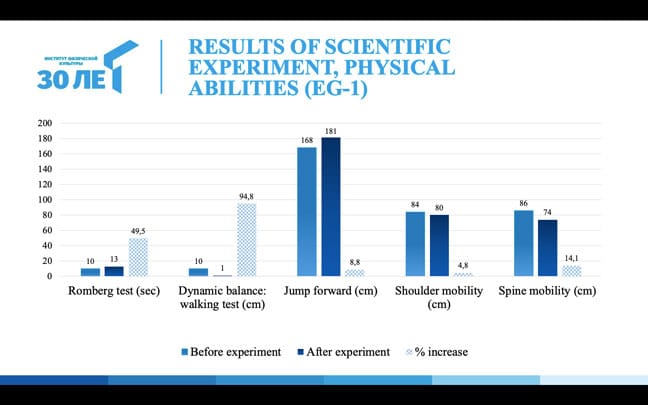 Physical abilities results for EG-1.
Physical abilities results for EG-2.
The graphs above show:
The greatest increase across both groups was demonstrated in the static and dynamic balance tests.
Lesser, though still notable, increases were seen in spine and shoulder mobility. EG-1 saw greater increases, most likely due to a greater potential for a large increase in novice subjects.
The lowest improvement was seen in explosive power, due to a few reasons:

In the movements utilised, not many required explosive power or jumping.
Explosive power or jumping movements were practiced less frequently than other movements.
EG-2 had less potential for a big increase in explosive power as they had already demonstrated excellent results in the pre-experiment testing.
EG-2 participants were also tested for their technical execution of Form Specific Stretches, with the six movements recorded for comparison.
Although hard to identify at first sight, analysis showed improvements in hip flexion, shoulder mobility and protraction strength in various positions.
EG-2 participants performing a Wave Unload before and after the experiment.
Motivation Tests
In order to test motivation, we used two questionnaires.
Health self assessment test, comprising 38 questions; and
Condition, activity and mood test, comprising 30 questions.
Results
Condition, activity, mood, and health self-assessments formed the basis for measuring motivation.
While the intention of the testing was not to compare the two groups, the results from the motivation data show an interesting picture. For this reason, the results appear side-by-side.
Here is what we found:
The condition, activity and mood testing showed slightly higher results amongst EG-2 participants.
The health assessment test showed the opposite: EG-2 demonstrated lower indicators which can be attributed to their former professional athlete status. This carries with it a more adequate self-assessment of health as well as a higher likelihood of post-career injuries, both of which may impact their scores.
Almost all subjects have shown positive dynamics of motivation and have, as of the time of writing this article, continued their Animal Flow practice.
Conclusion and further recommendations
Research results showed a notable increase in physical abilities, such as static and dynamic balance, shoulder and spine mobility, and explosive power abilities. Additionally, all participants said that it was a pleasure for them to explore Animal Flow, noting that it was much more interesting than any other fitness program they had tried previously. All experiment participants keep practicing Animal Flow in their groups as well as on their own, with one participant from the beginner group becoming a Certified Instructor.
Tyumen State University has recommended this work for further PhD research and has included Animal Flow in their regular student schedule as a standalone class. This class is taught by L2 Certified Instructor and scientific director for my dissertation, Ekaterina Simonova, PhD.
---
Animal Flow has a growing body of research supporting its efficacy in numerous areas. Check out The Science of Animal Flow page to read more about the other studies.