THE SIX COMPONENTS
Animal Flow includes a range of movements and combinations that are grouped into categories we call the "Six Components." Each Component is designed to elicit specific results. The Six Components can be mixed and matched in many ways, allowing you to incorporate one, some, or all of them in your workouts.
These include:

WRIST MOBILIZATIONS
Wrist mobilizations are simple, yet effective movements used to prepare the hands and wrists for the challenges of Animal Flow. Healthy wrists are so important to the success of both novice and experienced flow-ists, that it's the first of six components that make up the AF system.
ACTIVATIONS
Our activations are a way of "waking up" the body and encouraging it to communicate with itself. We also see the activations as a way to bring conscious awareness to your body and its interaction with the ground. The AF practice uses two activation positions, Beast and Crab, which are foundational forms in the overall program.
FORM SPECIFIC STRETCHES
The goal of the FSSs is to encourage a combination of flexibility and stability (i.e. mobility) throughout the entire body, building "strength through motion." Each FSS begins in one of our animal base positions and moves through various end ranges of motion. These movements may be used as conditioning tools or integrated into Flows.

TRAVELING FORMS
Traveling forms are our animal locomotive movements. They represent the way we mimic animals to improve the function of the "human animal." The basic traveling forms are known as the ABCs of animal movements: Ape, Beast, and Crab, along with their variations.
SWITCHES & TRANSITIONS
The S&Ts make up the bulk of the "flow" in the AF practice. These are dynamic movements that can be linked together to form endless combinations or can stand alone as a powerful exercise or drill. The four base S&T categories are Underswitch, Side Kickthrough, Scorpion and Front Kickthrough.
FLOWS
Flows are predesigned sequences where movements are linked together to create a continuous series of motion. Learning a Flow for the first time can be a workout in itself, as we recommend practicing each movement before putting them together into the Flow. Once you've learned a Flow, you can decide how you would like to use it as your complete workout or integrate it into your regular workout style. How you make the most of your Flow practice is truly up to you.
EXPERIENCE ANIMAL FLOW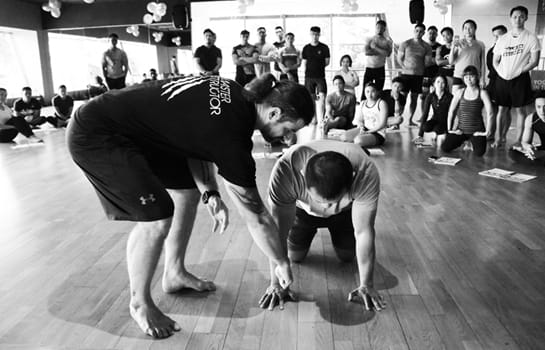 LEARN TO COACH IT
Become a Certified Animal Flow Instructor, allowing you to coach others through one-on-one training and/or group classes. Begin the process by attending one of our two-day Level 1 workshops, which are scheduled all around the world.
FLOW ON YOUR OWN
Learn the moves and practice anywhere you want – in your living room, at the gym, in a park or anywhere you can find a little open space. Subscribe to Animal Flow On Demand and get unlimited access to tutorials, classes, and flows.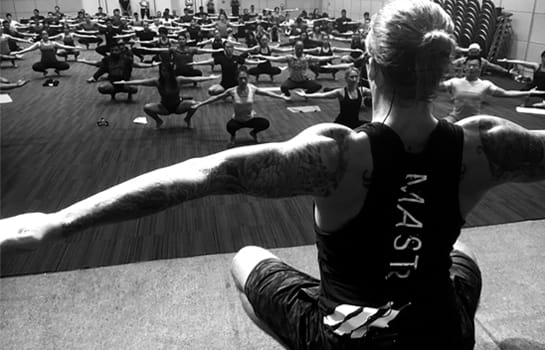 TRAIN WITH AN INSTRUCTOR
There is no better way to learn and continually improve your practice than to train with a Certified Animal Flow Instructor. Check out our directory to find personal trainers and/or classes near you!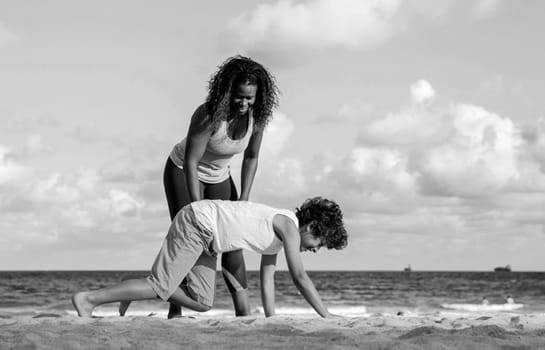 WORK WITH KIDS
Animal Flow is an awesome way to engage kids and teens of all ages in movements they'll love. To begin coaching kids in a team environment, the first step is to become a Certified Animal Flow Instructor. (Coming soon: specialized AF courses covering different age groups and sample games).
Testimonials
All good! Freyja my instructor is real cool. I hope to work with her again. As a teacher I definitely rate her as top notch. I feel blessed.

Lee Turner

Toronto

Animal Flow has stood the test of time simply because it WORKS! Information is on point and can be proven. Very practical and will test your knowledge of what fitness is. Highly encourage the workshop for all interest and or involved in fitness.

Anthony Post

Los Angeles, CA

THIS WAS AN AWESOME EXPERIENCE.

Andre Blake

Ontario

I would highly recommend this course to anyone who is in the fitness industry and looking to learn more about mobility! It was incredible.

Maja Howard

Hong Kong

The quality of the workshop has clearly deepened my knowledge of the strength, movement and agility of the body.

Jaya Khanchandani

Mumbai