AF Mentorship Week Costa Rica 2023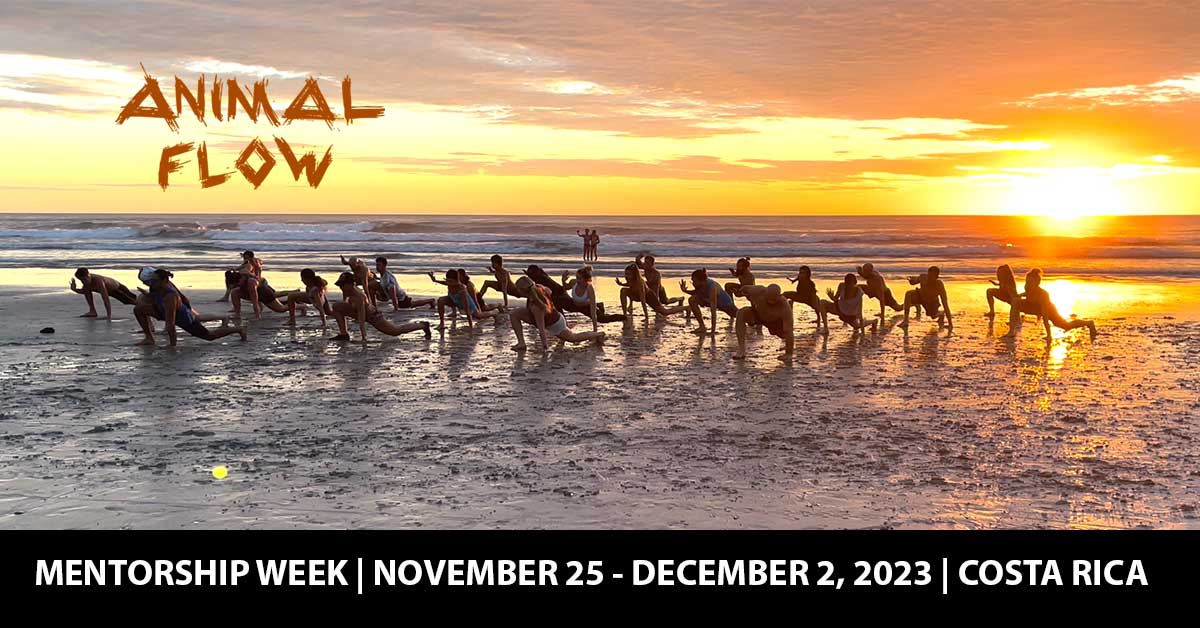 We are super excited to be going back to the awesome Bodhi Tree Resort in Costa Rica for our 2023 Mentorship! Join us for an amazing weeklong experience led by Mike Fitch, with Flowists from all around world.
THE EVENT
The Animal Flow Mentorship is our favorite week! We bring together Flowists from all over the world to hang out in a beautiful location where we can learn, share, practice, and, of course, flow. You'll reconnect with old friends, make new friends, and gain a life-long community.
Some highlights from our recent Mentorships:
REGISTRATION PROCESS
In order to accommodate as many attendees as we can while allocating space fairly, we will run a "pre-registration" from December 13 – December 20 where everybody interested in attending can submit their name. We will then sort names into a randomized list to allow people to register in batches. If you are interested in attending, please submit this form to be added to the pre-registration list:
Filling out this form does NOT require you to register, but it will put you onto the list so that you are included in the lottery system. If/when you number comes up, you will be told which types of rooms are available, and if you then want to register, you can put down a deposit (or pay in full) to save your spot. You can decline to register if you change your mind or don't like the options available. Here are the details on how this system will work:
The form asks for your name, country, preferred roommate if you have one (not required), and preferred room type.
We are setting aside some rooms for individuals from South and Central America, so that they have opportunity to attend a Mentorship that is close to them. So people from those countries will be sorted into a separate list.
We will also give priority to people who were on the waiting list for Greece but didn't get a spot, or who were registered for Greece but had to cancel for some reason.
The remaining people will be sorted into a randomized order.
We will then go through the lists, contacting people with information about which room are available. You'll have 48 hours to respond. You can save your spot with a deposit of $300, or pay in full. If you pay by deposit, you can break your remaining payments into 3 or 5 installments. We'll add a $20 processing fee onto each installment payment.
If you have a preferred roommate, you can let us know and they will be offered opportunity to register at same time as you, no matter where they are on the list. If you don't have a preferred roommate, that is fine – we'll be able to assign you someone. Everyone who goes to Mentorship is awesome, so you're sure to have a good match.
Room types include: single rooms (limited availability); shared rooms with 2 beds in one room; shared casitas with two bedrooms and 1 bed per bedroom; and "couple" rooms which include one king bed. See below for the complete list of rooms, prices, and links to the Bodhi website with pictures.
For the "couple" rooms: These include one large King bed. There is option for a single person to take this room, although pricing for that does end up pretty high. Two people sharing the bed makes the pricing similar to other shared rooms. This is ideal for a couple, OR for two friends who don't mind sharing a large bed. Note that if you are happy to share a bed with someone else, we recommend opting for one of these rooms as they are quite nice AND you will be bumped to top of list if willing to share bed.
If we end up with more people who want to attend than we have rooms for, we will create a waiting list.
SCHEDULE
Mentorship days are packed with a mix of classes, educational sessions, individual and group flow practice, social events, and downtime where you can replenish in your own way. A typical day begins with a 90 minute Animal Flow class, following a different format each day. The rest of the day will include some education sessions including some lectures, practical applications and group flow practice. You'll have time to create and practice flows with other attendees as well as the participating Master Instructors. We eat breakfast, lunch and dinner together as a group; plan lots of social activities and off-site adventures; and allow you some unscheduled time to spend as you wish. Hit the spa, walk to the beach, lounge at the pool, write in your journal…or practice more flow with your fellow Flowists!
The tentative week schedule will look something like this:
Saturday: Arrive at venue; Afternoon – Intro Flow Jam; Sunset flow on the beach;
Sunday: Morning AF class; Education/ Flow sessions after breakfast and lunch; Welcome Dinner Celebration;
Monday: Morning AF class; Education/ Flow sessions after breakfast and lunch; Optional evening session – breathwork/meditation/ free movement;
Tuesday: Morning AF class; Late morning – optional surf lessons or beach time; Afternoon – Education/Flow sessions; Evening Party by the Pool;
Wednesday: Optional Morning AF class; Great Day of Rest and Relaxation – choose your adventure or relaxation activity; Optional evening session – breathwork/meditation/ free movement;
Thursday: Morning AF class; Morning – create the Epic Flow; Afternoon – Film the Epic Flow; optional activities when your group is not filming; Night out in town;
Friday: Morning AF class; Mobility and Restoration Sessions; Animal Flow Olympics closing games on the beach; Closing Ceremony after dinner
Saturday: Departures – Group transport to airports as needed
PARTICIPANTS
The Mentorship is open to anyone who has taken the Level 1 workshop. You are not required to have completed your Level 1 certification test, although it is recommended that you do so prior to the event (if you are eligible to become certified).
Don't worry if you are coming by yourself – most attendees are also coming by themselves. You can expect to make life-long friends from around the world at the Mentorship!