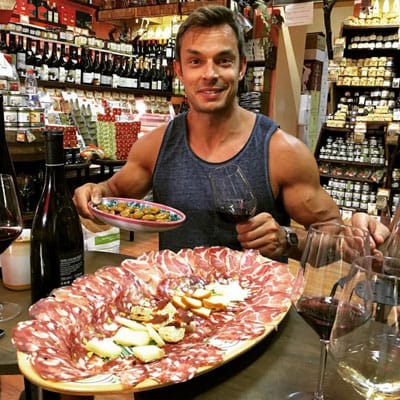 RICHARD SCRIVENER
Lead Global Master Instructor
London, UK
Rich is constantly impressed with the diversity of the AF community and how it pulls so many people together from such a diverse set of backgrounds. "Although my role as an AF Master Instructor is to teach, I always feel as though I learn just as much from this awesome community – we have such an array of talented coaches".
In his mind, Animal Flow really should be considered an established 'tool in the toolbox' for every trainer/coach. "Animal Flow has so much to offer – it's an incredibly giving and empowering movement training system". And Rich should know. As an esteemed movement coach and master presenter, he has extensive experience with both fitness and nutrition, and his love of new knowledge shows in the wide range of areas in which he is educated. In addition to being part of the original Animal Flow Master Instructor team, Rich enjoys body weight and kettlebell training, along with weightlifting. He also practices Capoeira in his spare time.
Rich currently works as the research and development manager for TRAINFITNESS and is a London-based personal trainer and nutritional therapist. His previous experience includes working as a strength and conditioning coach within professional Rugby Union, Soccer, Judo and Boxing. He has previously worked with Universal Pictures as their lead health and fitness advisor and is also the writer for some of the UK's most successful kettlebell courses.
Across a 22-year career in the health and fitness industry, Rich has taught several thousand students and has helped guide many onto becoming successful fitness professionals in their own right. He always encourages his students to see the 'bigger picture'; specifically, to view the health and fitness industry as you would the universe (yes, he is an astronomy nerd, too!). Rich believes that our knowledge and understanding of what drives better health and performance is always expanding and we must piece together all the clues from many disciplines, whilst remaining open minded to the fact that what we thought was correct one day may change the next.
Rich is a stalwart believer in 'practice what you preach' and believes in building health from the ground up for positive and long-lasting results. Rich also strongly subscribes to the notion that 'the hard work you put in puts you where good luck can find you'.
Qualifications & Certifications
MSc High Performance Physiology from Brunel University
First Class Honors Sports Science Degree from University of Bedfordshire
National Strength and Conditioning Association (NSCA) Certified Strength and Conditioning Coach
National Academy of Sports Medicine (NASM) Certified Personal Trainer
PTA Global Behavioral Change in Exercise Specialist
Centre for Nutrition Education & Lifestyle Management (CNELM) Certified Nutritional Therapist