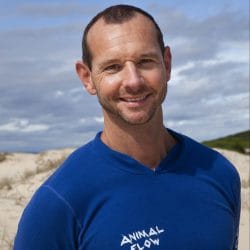 Guillaume "Gee" Tual
Peak Movement
Gold Coast QLD, Australia
Contact Me At:
Languages I Teach In:
English
French
AF Certifications:
Level 1 Certified Instructor
Level 2 Certified Instructor
Master Instructor
Services Offered:
In-Person Group Classes
Virtual Group Classes
In-Person Personal Training
Virtual Personal Training
About Me
My name is Guillaume, although people call me "Gee". I'm a Movement Therapist and Personal Trainer on the Gold Coast of Australia. I am passionate about helping people move and live better, from kids to seniors and everyone who wants to take back control of their bodies.
Life is full of surprises and sometimes our body isn't prepared. That's why I have a particular interest in injury prevention and pain management, as well as sports conditioning. My Animal Flow sessions are always fun and creative, after all, movement should be fun! Since taking my first workshop in 2015, I've aimed to support new Flowists in growing and having fun while learning how to own their movement.
As a Regional Leader, I am experienced with what it takes to become an instructor or a better Flowist. I don't come from a movement background like yoga or gymnastics so I can appreciate the journey and what it takes to improve. Animal Flow embodies both exercise and meditation. It's a great way to feel in control while giving your body that movement nutrition. People need to move more and movement is crucial for health at so many levels that I now think of moving for longevity and for life.
In my early 20's, I played professional basketball in France and College in Canada. I then went on to teach swimming and basketball to kids in American summer camps for 8 years and do many ski seasons. That's where I met some incredible people and eventually moved to Australia. Establishing myself here, getting my citizenship and starting my own fitness business is something I'm quite proud of. Since then, I've been mentoring new trainers to help them become successful.
On top of my teaching degree, I've undertaken many courses that have helped me understand the body better and take a holistic approach to health. People often comment on my creative mind and that I'm a child at heart! Every opportunity to get outdoors, ski, climb, hike or flow makes me come alive. Mountains and open spaces give me the freedom to be in the moment, even better when friends are joining in.
If you want to take back control of your body and train for longevity, come and join our Animal Flow community. It's an empowering and liberating journey to see yourself grow physically and mentally. I aim to help and support anyone who reaches out to learn and move better.