Animal Flow L2 Retreat Breckenridge
April 14, 2022

-

April 18, 2022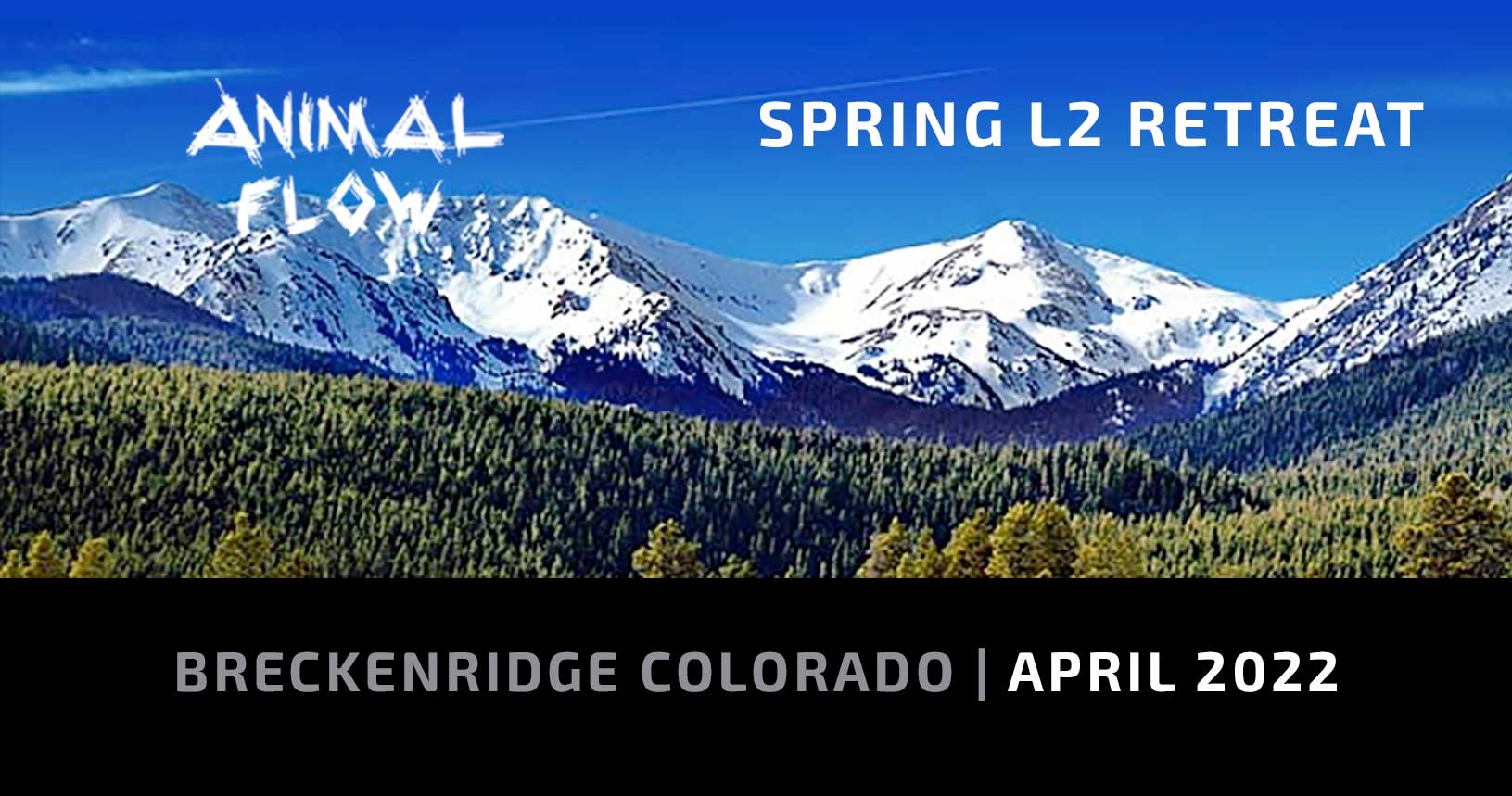 This event was previously sold out, when it was scheduled for April 2020. We have a few spots opening up for the rescheduled event. Please email karen@animalflow.com to inquire about available rooms.
Join us for a long weekend of Flow and Awesomeness in the Rocky Mountains, from April 14 to 18, 2022. We'll spend 4 days/4 nights in a private mountain lodge, exploring the Animal Flow practice with Mike Fitch. This intimate event is limited to just 16 participants, so save your spot now! (This event is over Easter Weekend)
The Mini-Retreat is a small, informal event offering Flowists the chance to get together for a memorable weekend of fun and practice with Mike and fellow Flowists from around the world. We'll work on techniques, create individual and group flows, and share our practice with each other. In between the flow time, we'll take advantage of the many great activities in the delightful town of Breckenridge and the gorgeous mountain surroundings. Springtime in Breckenridge is a beautiful time of year, and we're likely (but not guaranteed of course!) to have both snow and sun.
ACCOMMODATIONS
We've rented a 13-bedroom mountain lodge in the town of Breckenridge. We'll enjoy communal meals in the state-of-the-art kitchen, kick back in the outdoor hot tub, relax in the Great Room, and create space for mall group flow practice. (We'll do most of our Flow practice in the Breckenridge Recreation Center so that we have more room.). Private and shared rooms are available (see below)
What's Included?
4 nights lodging
All meals EXCEPT dinner out two nights
Transport from Denver to Breckenridge on Thursday, leaving at 2pm (see Getting There description below)
Special Welcome Pack including one-of-a-kind Retreat Shirt
What's Not Included?
Travel to Colorado
Dinners out in Breckenridge restaurants (2 nights)
Alcohol – provided on Honor Bar system
Optional adventures / activities
Return transport to Denver airport from Breckenridge (we may be able to take some people back, depending on flight time, but most people should plan on booking shuttle from Breck to airport)
Cost of COVID tests, if necessary for return travel
SCHEDULE
This is a tentative schedule, subject to change based on weather, reservations, and what the group feels like doing.
Thursday: Arrival
Arrive in Boulder or Denver before 1pm on Thursday. (We recommend a day or two early so you can acclimate to the altitude). At 2pm we'll pick you up from a designated meeting point in Denver, for the 2 hour drive out to Breckenridge. We'll get checked in, enjoy some flow time, and have dinner in at the lodge.
Friday, Saturday, Sunday
– Each morning we'll have breakfast in the lodge.
-Every day will include lots of Flow Time at the Breckenridge Rec Center, as well as informal flow time in the lodge.
– Some days we'll order lunch in and some days we'll be out for lunch.
– External activities may include hiking, skating, snowshoeing, and/or whatever else is good that time of year.
– We'll cook dinner in the lodge two nights and will eat out in town two nights, including at one of Colorado's famous local breweries.
– Wind down each evening in the hot tub with some beer, wine or drink of choice.
Sunday Afternoon: Epic Flow Time: We'll design and film our "Epic Flow" on Sunday afternoon.
Monday: Departure
We'll be up and out early to drop everyone at the Denver Airport, or in town in Denver or Boulder if you are staying longer. We can probably take some of you to airport in our own transport, but with all different departure times, we'll start out by saying everyone is responsible for booking their own transport back. There is a shuttle that will pick you up from the house and take you to the airport. We can help you make the arrangements.
WHO CAN ATTEND?
The retreat is open to anyone who has taken the Level 2 workshop. You do not need to be certified in L2, but you must have taken the workshop.
ROOM AND PRICING
This event was previously sold out, but some people may now not be able to attend. Therefore we are making rooms available on a case-by-case basis as we are able to confirm who will not attend. Please join the waiting list to be notified if a space becomes available.
Private Rooms: A queen or king bed in a private room with private bathroom. $1550
Double Room: Share room, with two twin beds sharing the room. Private bathroom. $1350
Chicago Room: Private room with one king bed, with shared bathroom. The bathroom is shared with the Group Room, and access to the bathroom means people must enter the Chicago Room. So while this room has its own bed, you can consider this room "joined" with the group room. $1375
Group Room: Shared group room. This room shares a bathroom with the "Chicago Room". The room contains two twin beds, and two twin bunk beds. Note that we will not put participants in a top bunk (although staff may be assigned to sleep there.) $1150 per bed
CLICK HERE TO VIEW THE FLOORPLAN AND PHOTOS OF SPECIFIC ROOMS: Little Mountain Lodge Rooms
You can register with $200 deposit and balance due by end of March.
CANCELLATIONS AND REFUNDS
This is a small event with extremely limited spots. Therefore, we'll have to maintain a strict cancellation policy. If you cancel up to 3 months before event, you can receive a 75% refund; 2 months before event is a 50% refund; 1 month or closer to event is 0% refund.