Animal Flow L2 and Advanced Flow Design Tokyo (Sep)
September 26, 2020

-

September 27, 2020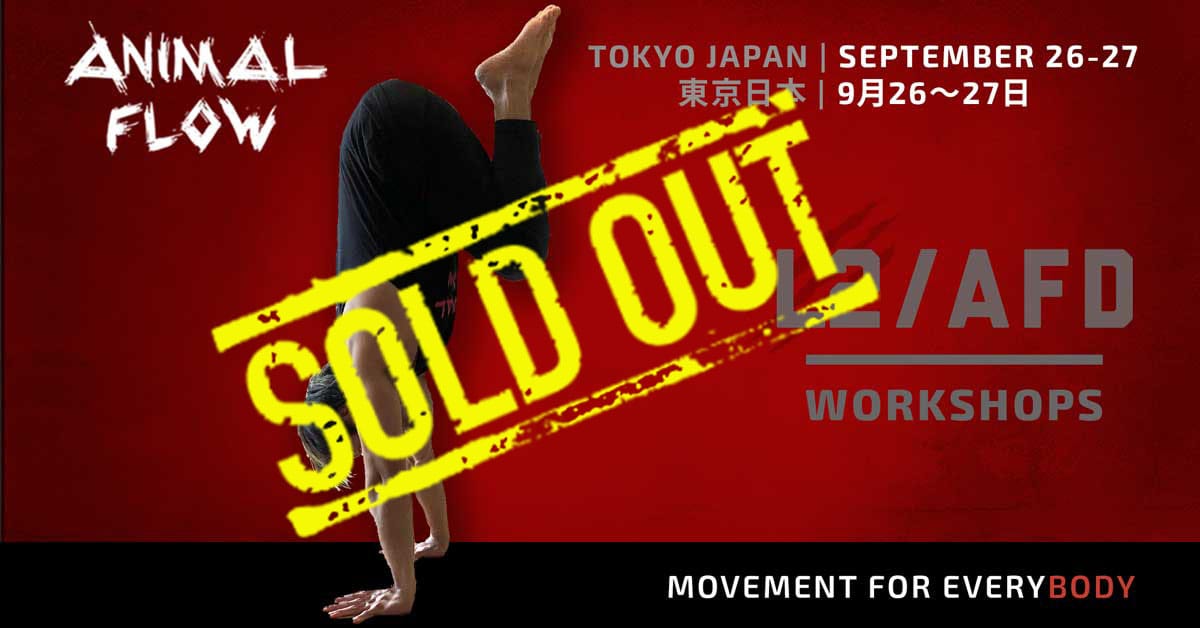 Take your Animal Flow practice to a higher level of understanding at the Level 2 and Advanced Flow Design Workshops from September 26-27, 2020.  Level 2 is on Saturday and Animal Flow Design (AFD) is on Sunday. It will be hosted at Academy Hall Ikeburo in Tokyo, Japan. Master Instructor Jin Takazawa will be teaching both of these events in Japanese. The Level 2 workshop is open to anyone who has taken Level 1; Advanced Flow Design is open anyone who has taken Level 2. You can register for Level 2 alone, or take both workshops together.
Register by contacting Jin Takazawa at jin@animalflow.com
We have scheduled this workshop for the noted dates under the hopeful assumption that the coronavirus crisis will have subsided enough by then that we can go back to holding live workshops. We will, however, continue to monitor the situation. As we get closer to the planned date, if it appears that it would not be safe to hold the event, it will be postponed. If we postpone the event you will have the option to transfer into another future event, or to take the online version offered via live video remote. Thank you for understanding as we all try to move forward under these difficult circumstances.
ABOUT LEVEL 2
Building upon the strong foundations learned in Level 1, Level 2 teaches 10 more new moves, as well as progressions for hand balancing. You'll delve into more advanced concepts like energy transfers, tempo changes and using animal locomotion in flows, while engaging in intermediate level flow design. Read more about the LEVEL 2 WORKSHOP HERE.
Participants will learn how to successfully perform the Level 2 exercises, as well as how to correctly integrate the movements with Level 1 to create extended Flows with an increased degree of complexity and intensity. Participants also learn how to instruct the movements and incorporate them into a training program. Emphasis is placed on understanding how the Level 2 movements train the fascial slings of the body; understanding the role of dissipating force, fluidity, and leverage in the advanced movements; and understanding how to instruct a range of progressive drills and conditioning exercises that form the introduction to hand balancing practice.
The full-day agenda includes:
– Review of key Level 1 moves
– Intro to Hand Balancing: Tuck Balance Progressions
– New Transitions: Reaching Underswitch; Reaching Underswitch to Deep Ape; Scorpion Sweeps; Roll Throughs; and Crocodile Rolls, Pop Switches and Pop Outs;
– New Traveling forms: Bear, Leopard, Crocodile;
– Using traveling forms as a "link" for switches and transitions;
– How and why to introduce tempo change and energy redirects into a flow;
– Intermediate flow design
Level 2 Continuing Education
Participants are eligible to receive Continuing Education credits from National Academy of Sports Medicine (NASM) – .9 CE; American Fitness Association of America (AFAA) – 9 CEUs.
Who Is Eligible for L2?
To enroll in Level 2, you must have already taken the Level 1 workshop at least 30 days prior to the date of the L2 workshop. While we strongly recommend that you complete your Level 1 certification prior to the workshop, you may still enroll even if you have not fully completed the test process to become a Certified Instructor. Contact us if you still need to submit your videos but want to enroll in L2. We will make arrangements with you to ensure you can complete the Level 1 test out after the Level 2 workshop.
ABOUT ADVANCED FLOW DESIGN
AFD is an intense but super fun workshop focused solely on helping you design and execute higher level flows. You'll learn new moves and trickier transitions, with emphasis on dramatizing the movements and bringing in your personal flair. End the day by performing a creative flow of your design with feedback from your course instructor. Read more about ADVANCED FLOW DESIGN HERE.
Topics covered include:
– Further understanding of energy rolls, redirects and brakes;
– How to strategically use tempo changes;
– When to use personal style components and flare;
– New traveling moves: Baboon, Frog, Traveling Underswitch;
– Properly integrating Animal Travels;
– Combining L1 and L2 movements;
– Tons of new transitions for getting into and out of switches and transitions;
– Design your own flow using creative transitions and individual style
Who Is Eligible to Attend AFD?
Anyone who has taken the Level 2 workshop may attend AFD. You don't have to completed your L2 test, as long as you've taken the workshop so that you are familiar with the Level 2 move set. Many students take L2 and AFD on the same weekend, which provides a great opportunity to put to use the new moves you learned the day before!
INSTRUCTOR
Both workshops will be taught by Animal Flow Master Instructor Jin Takazawa. Jin will teach in Japanese.
The event will take place at Academy Hall Ikeburo, in Tokyo. Level 2 is on Saturday and AFD is on Sunday, with times TBA.
Cost and Registration
Price for L2 ¥70,000 +tax AFD ¥40,000+tax (take both 5,000yen off)
The workshop is 10 hours long, including a 30 minute break.
You will receive access to video tutorials for the Level 2 Traveling Forms as soon as you register.
Register by contacting Jin Takazawa at jin@animalflow.com
CERTIFICATION
To become a Level 2 Certified Instructor, you will need to submit your Level 2 certification test on video 30 – 90 days after the workshop. Read about CERTIFICATIONS HERE.
Cancellations and Refunds
Note that we have a strict Refund Policy which you can read HERE.
We plan our events months in advance, and have thousands of students taking workshops per year, so we are unable to accommodate requests to cancel your registration or issue refunds outside of the stated refund policy. If you need to cancel outside of the permitted refund period, you may transfer your registration to someone else that you identify.