Animal Flow Level 2 Darmstadt (Apr)
April 2, 2022

-

April 3, 2022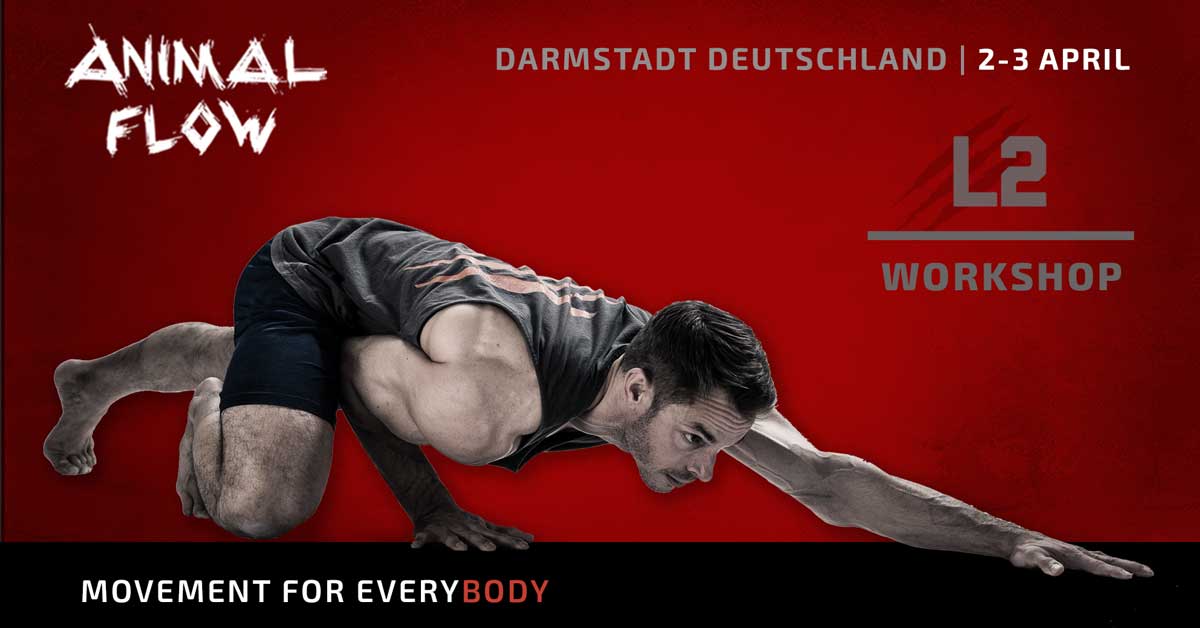 Take your Animal Flow practice to a higher level of understanding at the Level 2 from April 2-3, 2022. The two-day event is 6.5 hours each day, on Saturday and Sunday. It will be hosted at CrossFit Kampfgeist in Darmstadt. This workshop will be taught in English by Master Instructor Rich Scrivener. Master Instructor Sascha Mueller will be hosting, assisting and translating into German. The Level 2 workshop is open to anyone who has taken Level 1.
REGISTER FOR DARMSTADT THROUGH "THIS DRIVES ME"
Der Level 2 Workshop ist ein zweitägiger Workshop (10 Stunden) bei dem Du dein allgemeines Verständnis der Animal Flow Praxis auf das nächste Level bringst.
Du lernst 10 neue Bewegungsabläufe und Progressionen zum Thema Hand Balancing ("Tuck Balance").
Tauche ein in fortgeschrittene Konzepte wie Energy Transfers, Tempo wechsel sowie das Integrieren von Animal Locomotions in Flows.
Du verbesserst Deine Fähigkeit Deine Kunden anzuleiten und die neu erlernten Bewegungen in Deine Praxis zu integrieren.
Dieser Workshop ist offen für alle die an dem L1 Workshop teilgenommen haben.
We have scheduled this workshop for the noted dates under the hopeful assumption that the coronavirus crisis will have subsided enough by then that we can go back to holding live workshops. We will, however, continue to monitor the situation. As we get closer to the planned date, if it appears that it would not be safe to hold the event, it will be postponed. If we postpone the event you will have the option to transfer into another future event, or to take the online version offered via live video remote. Thank you for understanding as we all try to move forward under these difficult circumstances.

ABOUT LEVEL 2
Building upon the strong foundations learned in Level 1, Level 2 teaches 10 more new moves, as well as progressions for hand balancing. You'll delve into more advanced concepts like energy transfers, tempo changes and using animal locomotion in flows, while engaging in intermediate level flow design. Read more about the LEVEL 2 WORKSHOP HERE.
Participants will learn how to successfully perform the Level 2 exercises, as well as how to correctly integrate the movements with Level 1 to create extended Flows with an increased degree of complexity and intensity. Participants also learn how to instruct the movements and incorporate them into a training program. Emphasis is placed on understanding how the Level 2 movements train the fascial slings of the body; understanding the role of dissipating force, fluidity, and leverage in the advanced movements; and understanding how to instruct a range of progressive drills and conditioning exercises that form the introduction to hand balancing practice.
The full-day agenda includes:
Review of key Level 1 moves
Intro to Hand Balancing: Tuck Balance Progressions
New Transitions: Reaching Underswitch; Reaching Underswitch to Deep Ape; Scorpion Sweeps; Roll Throughs; and Crocodile Rolls, Pop Switches and Pop Outs;
New Traveling forms: Bear, Leopard, Crocodile;
Using traveling forms as a "link" for switches and transitions;
How and why to introduce tempo change and energy redirects into a flow;
Intermediate flow design
Level 2 Continuing Education
Participants are eligible to receive Continuing Education credits from National Academy of Sports Medicine (NASM) – .9 CE; American Fitness Association of America (AFAA) – 9 CEUs.
ELIGIBILITY
To enroll in Level 2, you must have already taken the Level 1 workshop at least 30 days prior to the date of the L2 workshop. While we strongly recommend that you complete your Level 1 certification prior to the workshop, you may still enroll even if you have not fully completed the test process to become a Certified Instructor. Contact us if you still need to submit your videos but want to enroll in L2. We will make arrangements with you to ensure you can complete the Level 1 test out after the Level 2 workshop.
Note that while we do not require that you have completed certification, you MUST be up-to-date with your L1 practice and be very familiar with the moves. L2 is a long, frustrating day if you haven't internalized the L1 moves.
INSTRUCTOR
This workshop will be taught by Animal Flow Master Instructor Rich Scrivener. Rich will teach in English. German translation and assisting by Master Instructor Sascha Mueller.
The event will be hosted at the beautiful CrossFit Kampfgeist in Darmstadt.
Cost and Registration
Regular cost to attend just L2 is $595 USD. Early bird price available until February 4.
REGISTER FOR DARMSTADT THROUGH "THIS DRIVES ME"
CERTIFICATION
To become a Level 2 Certified Instructor, you will need to submit your Level 2 certification test on video 30 – 90 days after the workshop. Read about CERTIFICATIONS HERE.
Cancellations and Refunds
We plan to hold this workshop in-person on the scheduled date. However, we must also be prepared to react to changes in circumstances due to COVID-19. It is possible that a workshop may have to be rescheduled if government regulations require closing of venues or other restrictions, and/or restrict travel in a way that makes the workshop impossible to hold. If a workshop is postponed due to COVID or other unforeseen circumstances, you will be offered the option to transfer to the future workshop or to take the workshop online. If you are absolutely unable to transfer to one of the future options, you can contact our partner to find out your options. If a workshop must be postponed due to circumstances beyond our control (such as COVID-19 restrictions), we are not responsible for any travel or other costs you may have already incurred. If you plan to travel to attend a workshop, we suggest obtaining travel insurance.
Stornierung/Rückerstattung
Wir planen, diesen Workshop zum geplanten Termin in Präsenz durchzuführen. Allerdings müssen wir fortlaufend darauf vorbereitet sein, auf veränderte Umstände durch COVID-19 reagieren zu können. Es ist möglich, dass ein Workshop verschoben werden muss, wenn behördliche Vorschriften die Schließung von Veranstaltungsorten oder andere Einschränkungen erfordern, und/oder Reisen in einer Weise einschränken, die eine Durchführung des Workshops unmöglich macht Wenn ein Workshop aufgrund von COVID oder anderen unvorhergesehenen Umständen verschoben wird, wird Ihnen die Möglichkeit angeboten, in einen in der Zukunft liegenden Workshops zu wechseln oder den Workshop online zu absolvieren. Wenn Sie nicht in eine der zukünftigen Optionen wechseln können, können Sie sich an unseren Partner wenden, um Ihre Optionen zu erfahren. Wenn ein Workshop aufgrund von Umständen verschoben werden muss, die außerhalb unserer Kontrolle liegen (z. B. COVID-19-Einschränkungen), sind wir nicht für bereits entstandene Reise- oder andere Kosten verantwortlich. Wenn Sie zu einem Workshop reisen möchten, empfehlen wir den Abschluss einer Reiseversicherung.