Animal Flow Level 1 Istanbul (June)
June 8, 2019 @ 9:30 am

-

June 9, 2019 @ 4:00 pm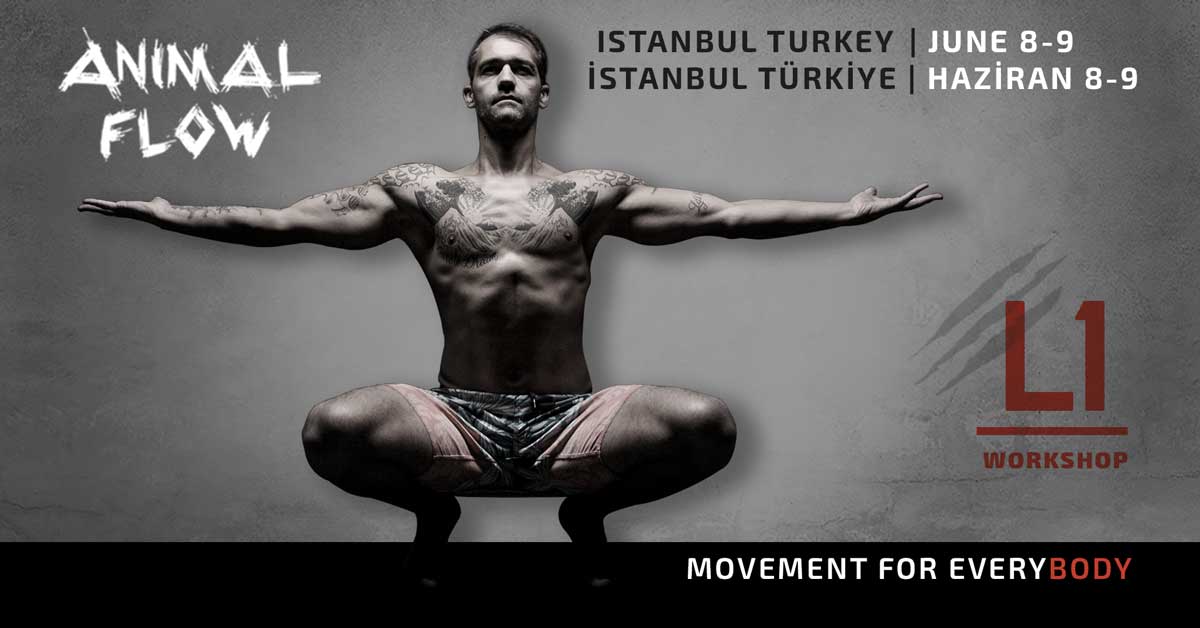 8-9 Haziran 2019 tarihleri arasında İstanbul, Türkiye'de gerçekleştirilecek Animal Flow® Level 1 Eğitiminde bize katılın. İki günlük etkinlik, Cumartesi ve Pazar her iki gün de sabah 9.30'dan 16.00'ya kadar sürecektir.
In English at bottom
Level 1 Eğitimi 30 hareketi içeren 2 günlük yoğun bir programdır. Hareket indirgemelerini, ilerlemelerini ve tüm beceri seviyeleri için varyasyonları içerir. Her hareketi ayrı ayrı nasıl ve ne zaman kullanacağınızın yanı sıra kendi tasarımınız olan akışları da nasıl bağlayacağınızı keşfedeceksiniz. Bu, aynı zamanda Uluslararası geçerliliği olan, ''Sertifikalı Animal Flow Eğitmeni'' veya ''Uzmanı'' olma yolunda ilk adımınızdır. Sertifikasyon süreci ve avantajları hakkındaki ayrıntıları BURADA bulabilirsiniz.
Kurs Hakkında
Hareket Formları (Hayvan hareketlerinin "ABC"si), Değiştirmeler ve Geçişler; Bilek Hareketliliği, Aktivasyonlar, Forma Özel Esnemeler ve tabii ki Akışlar dahil olmak üzere Animal Flow'un 6 bileşeninin tamamını işleyeceksiniz. Eğitim iki gün boyunca zorluk ve karmaşıklık açısından sistematik olarak artan temel pozisyonlarla başlar. Hareketler, sağlık ve fitness sektörlerinde çalışan herkesin aşina olduğu bilime dayanan bir seri içinde öğretilir. 
Animal Flow'un Altı Bileşeni, eğitimde işlenen belirli hareketler, kursun hedefleri ve 1. Level hakkında daha fazla genel bilgiyi BURADA okuyabilirsiniz.
Neler içeriyor
Kaydınıza dahil olanlar:
– Animal Flow 2.0 videosunun ücretsiz eVideo versiyonu (satış bedeli: $49,95)
– 74 sayfalık Öğrenci Kılavuzu fiziksel kopyası
– Özel AF Eğitmenleri Facebook grubuna erişim.
– Mike Fitch'in AF'de kullanılan Komut dilini gözden geçirdiği eğitici videolar
– Uluslararası Sürekli Eğitim kredileri için katılım sertifikası. 
Eğitim Hazırlığı:
Eğitim her beceri seviyesindeki kişilere açıktır. Dört ayaklı hareket pozisyonunda kendi vücut ağırlığınızı destekleyebilecek fiziksel kapasiteye sahip olmanız ve fiziksel faaliyetlere katılmak üzere tıbbi olarak izin almış olmanız gerekmektedir.
Kayıttan sonra bileklerinizi kursa hazırlamanıza yardımcı olacak bazı pratik egzersizleri içeren bir hoş geldiniz videosu alacaksınız.
Sürekli Eğitim Kredileri
Seviye eğitim, şu kurumlardan sürekli eğitim kredileri sağlamaya onaylıdır: ACE 1.1; National Academy of Sports Medicine (NASM) 1.1 CEU; Athletics and Fitness Association of America (AFAA) 11 CEU; UK Registered Exercise Professionals (REPS), PD: Onay 10 CPD; New Zealand Registered Exercise Professionals (REPs) 13,75 5 CPD; UAE REPS; Canfitpro – 8 canfitpro CEC (Değerlendirme & Egzersiz Bölümü: 4 PTS; Program Tasarımı Bölümü: 4 PTS); Fitness Australia – 9 CEC yenileme bekleniyor; Physical Activity Australia 3 PDP. 
Kiminle ve Nerede:
Bu Eğitim Animal Flow Master Eğitmeni Sascha Mueller tarafından verilmektedir. Sascha eğitimi İngilizce verecektir, aynı anda Türkçe çeviri yapılacaktır.
Etkinlik RetroFit Academy® tarafından düzenlenmektedir
Ücret:
1 Mayıs'a kadar $425 USD tutarında erken kayıt ücreti. 
1 Mayıs'tan sonra $475 USD tutarında normal kayıt ücreti.
---
Join us for the Animal Flow® Level 1 Workshop in Istanbul Turkey on June 8-9, 2019. The two-day event is seven hours each day, Saturday and Sunday, from 9:30am to 4:00pm.
L1 is an intensive two-day workshop (12 hours total) where you'll learn all 30 Level 1 moves, including regressions, progressions, and variations for all skill levels. You'll explore how and when to use each movement individually, as well as how to link them together into flows of your own design. This is also your first step toward becoming a Certified Animal Flow Instructor or Specialist. You can find the details on the Certification process and benefits HERE.
About the Course
You'll cover all 6 elements of Animal Flow, including the Traveling Forms (the "ABCs" of animal movements); Switches and Transitions; Wrist Mobility; Activations; Form Specific Stretches, and, of course, Flows. The workshop starts with base positions, which systematically build in difficulty and complexity over the two days. Movements are taught within the context of scientifically-based concepts relevant to anyone working in health and fitness industries.
Read about the Six Components of Animal Flow, the specific movements covered in the workshop, the course objectives, and more about Level 1 in general HERE.
What's Included
Your registration includes:
– Complimentary eVideo version of the Animal Flow 2.0 video (retail value: $49.95)
– Hard copy of the 74-page Student Manual
– Access to the private AF Instructors Facebook group.
– Access to Mike Fitch's tutorial series reviewing the Call Out language used in AF
– Certificate of Completion, including proof of participation for Continuing Education credits.
Workshop Preparation:
The workshop is open to persons of all skill levels. You should be physically fit enough to support your own bodyweight in quadrupedal position, and be medically cleared to participate in physical activities.
Upon registration, you will receive a welcome video with some practice exercises to help you prepare your wrists for the course.
Continuing Education Credits
The Level 1 course is approved to provide continuing education credits from: National Academy of Sports Medicine (NASM) 1.1 CEUs; Athletics and Fitness Association of America (AFAA) 11 CEUs; UK Registered Exercice Professioanla (REPS) from PD:Approval 10 CPD; New Zealand Registered Exercise Professionals (REPs) 13.75 5 CPDs; UAE REPS; Canfitpro – 8 canfitpro CECs (Assesement & Exercise Portion: 4 PTS; Program Design Portion: 4 PTS); Fitness Australia – 9 CECs pending renewal; Physical Activity Australia 3 PDPs.
Who and Where:
This workshop will be taught by Animal Flow Master Instructor Sascha Mueller. Sascha will teach in English, with Turkish Translation.
The event will be hosted at RetroFit Academy.
Cost:
Early registration price of $425 USD until May 1.
Regular registration price of $475 USD after May 1.
You will receive the code for your free Animal Flow 2.0 video in your confirmation email.
Registration
Contact: RetroFit Academy 0090 545 260 25 59
retrofitacademy@gmail.com