Animal Flow Level 1 Aveiro Portugal (Feb)
February 12, 2022

-

February 13, 2022

$297.50 – $595.00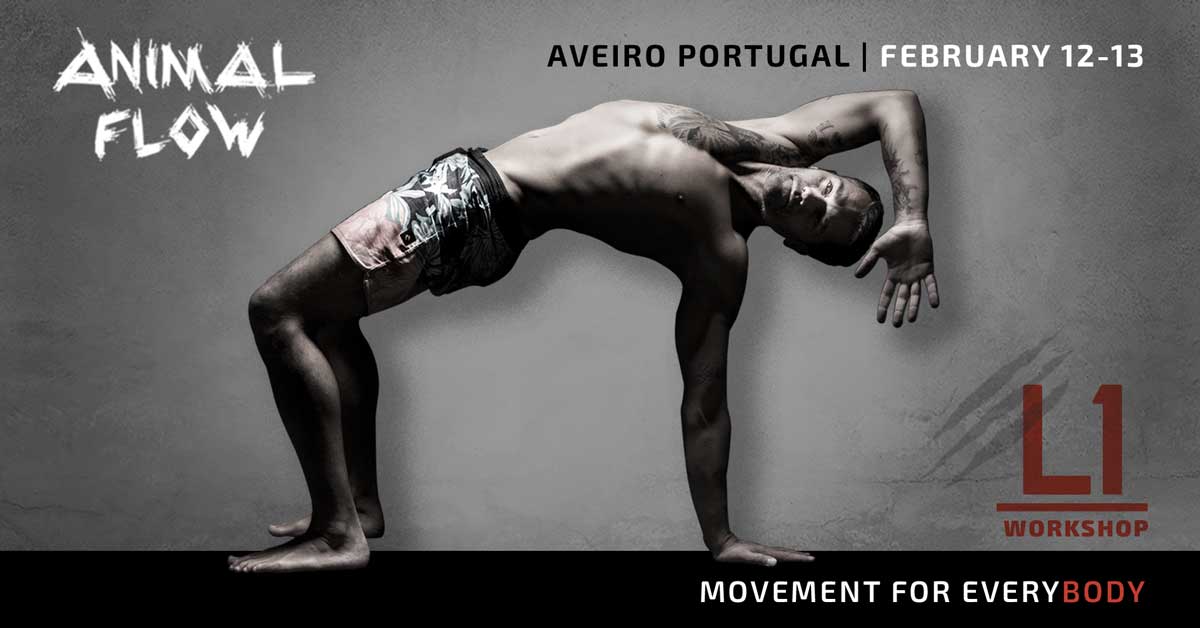 Junte-se a nós para o Workshop de Animal Flow®️ Nível 1 em Aveiro, Portugal, nos dias 12 e 13 de Fevereiro de 2022 (Sábado e Domingo). Cada um dos dois dias do evento terá a duração de seis horas e meia, das 10h30 às 17h30. O workshop irá realizar-se no CrossFit de Aveiro e será ministrado em inglês, pelo instrutor "Master" Sascha Mueller. O instrutor "Master" Paulo Fernandes também estará presente para auxiliar no ensino e fazer a tradução para o português.
Nível 1 é um workshop intensivo de dois dias (13 horas no total), onde aprenderá todos os 30 movimentos de Nível 1, incluindo regressões, progressões e variações para todos os níveis de habilidade. Explorará como e quando usar cada movimento individualmente, bem como encaixá-los nos flows criados por si.
O workshop será aberto a profissionais de fitness e não profissionais, pois damos as boas-vindas a todos os interessados em movimentar-se melhor. Profissionais de fitness são elegíveis para se tornarem Instrutores Certificados de AF, com a permissão de ensinarem AF em treino pessoal, aulas de fitness em grupo ou outros programas de fitness. Tornar-se certificado requer a conclusão do processo de teste após o workshop. Todos os não profissionais são bem-vindos para fazer o curso para seu próprio benefício, mas não estão autorizados a ensiná-lo sem primeiro obter uma credencial de fitness. Poderá encontrar os detalhes sobre o processo de certificação e benefícios AQUI.
SOBRE O CURSO
Serão cobertos todos os 6 componentes de Animal Flow, incluindo as transições (os "ABCs" dos movimentos dos animais); Mobilidade do Pulso; Activações; Alongamentos Específicos e, é claro, os flows.
O workshop começa com posições básicas, que sistematicamente aumentam em dificuldade e complexidade ao longo dos dois dias. Os movimentos são ensinados dentro do contexto de conceitos de base científica relevantes para qualquer pessoa que trabalhe nas indústrias de saúde e fitness. Até ao final do segundo dia, toda a turma realizará uma sequência conhecida como o Beast flow, que integra a grande maioria dos movimentos do workshop. Este flow poderá ser a estrutura a partir da qual poderá depois começar a sua própria prática criativa.
Encontre mais detalhes sobre o Workshop de Nível 1 aqui, incluindo os movimentos específicos abordados no workshop, os objectivos do curso e o processo de teste.
O QUE ESTÁ INCLUÍDO
O seu registo inclui:
Acesso gratuito à biblioteca completa de vídeos instrutivos para todos os movimentos de Nível 1
Cópia do Manual do Aluno de 100 páginas
Acesso ao grupo de Facebook privado dos Instrutores de AF.
Acesso à séries de tutoriais de Mike Fitch revendo o idioma Call Out usado no AF
Certificado de Conclusão, incluindo comprovativo de participação e créditos de Educação Contínua
PREPARAÇÃO PARA O WORKSHOP:
O workshop está aberto a pessoas de todos os níveis de prática. Deve estar fisicamente apto o suficiente para apoiar o seu próprio peso corporal em posição quadrúpede e estar autorizado pelo seu médico a participar em actividades físicas. Os participantes devem ter pelo menos 18 anos de idade.
Após o registo, receberá acesso a um vídeo de boas-vindas, aos tutoriais de Nível 1 e a outras informações pré-workshop.
CRÉDITOS DE EDUCAÇÃO CONTÍNUA:
O curso de Nível 1 é aprovado para fornecer créditos de educação contínua de: ACE 1.1 CEUs; Academia Nacional de Medicina Esportiva (NASM) 1.1 CEUs; Athletics and Fitness Association of America (AFAA) 11 CEUs; UK Registered Exercice Professioanla (REPS) de PD:Approval 10 CPD; New Zealand Register
QUEM E ONDE:
Este workshop será ministrado pelo Instrutor "Master" de Animal Flow Sascha Mueller. O Instrutor "Master" Paulo Fernandes dará assistência aos movimentos do workshop e à tradução para o português.Paulo Fernandes.
O evento será realizado no CrossFit Aveiro, em Aveiro, das 10h00 às 16h30, no Sábado e no Domingo.
OPÇÕES DE CUSTO E PLANO DE PAGAMENTO:
O custo normal para o Workshop de Nível 1 é de US$ 595.  Se pagares em moeda estrangeira, a conversão será feita automaticamente no checkout.
antecipado de US$ 545 até 15 de janeiro
lanos de pagamento disponíveis: pode registar-se com um pré-pagamento de 50%. Receberá um lembrete por e-mail para pagar o remanescente 2 semanas antes do workshop (até 5 de Fevereiro). Este plano de pagamento estará disponível apenas até 29 de Janeiro.
Observação: não guardamos informações de cartões de crédito e, portanto, não podemos facturar automaticamente; terás que verificar no seu e-mail o seu saldo para efetuar o segundo pagamento.
CANCELAMENTOS/REEMBOLSOS:
Agendamos este workshop para as datas indicadas no pressuposto de que, esperançosamente, a crise do coronavírus terá diminuído o suficiente até lá para que possamos voltar a realizar workshops ao vivo. No entanto, continuaremos a monitorar a situação. À medida que nos aproximarmos da data planeada, se parecer que não será seguro realizar o evento, então o mesmo será adiado. Neste caso, terá a opção de participar num outro evento futuro ou de fazer a versão online via vídeo em directo. Obrigado pela compreensão enquanto todos tentamos seguir em frente nestas circunstâncias difíceis.
ENGLISH:
Join us for the Animal Flow® Level 1 Workshop in Aveiro, Portugal, on February 12-13, 2022. The two-day event is six and a half hours each day, from 10:30am to 5:30pm on Saturday and Sunday. It will be hosted at CrossFit Aveiro, in Aveiro. This workshop will be taught in English, by Master Instructor Sascha Mueller. Master Instructor Paulo Fernandes will also be there to assist in teaching and do the Portuguese translation.
L1 is an intensive two-day workshop (13 hours total) where you'll learn all 30 Level 1 moves, including regressions, progressions, and variations for all skill levels. You'll explore how and when to use each movement individually, as well as how to link them together into flows of your own design.
The workshop is open to fitness professionals and non-professionals, as we welcome everyone interested in becoming a better mover. Fitness professionals are eligible to become Certified AF Instructors, who are allowed to teach AF in personal training, group fitness classes, or other fitness programs. Becoming certified requires completing the test process after the workshop. Non-professionals all welcome to take the course for their own benefit, but are not authorized to teach it without first attaining an appropriate fitness credential. You can find the details on the certification process and benefits HERE.
About the Course
You'll cover all 6 components of Animal Flow, including the Traveling Forms (the "ABCs" of animal movements); Switches and Transitions; Wrist Mobility; Activations; Form Specific Stretches, and, of course, Flows.
The workshop starts with base positions, which systematically build in difficulty and complexity over the two days. Movements are taught within the context of scientifically-based concepts relevant to anyone working in health and fitness industries. By the end of the second day, the entire class will be performing a sequence known as the Beast flow which integrates a large majority of the movements from the workshop. This becomes a structure from which they may begin their own creative practice.
Find more details about the Level 1 Workshop here, including the specific movements covered in the workshop, the course objectives, and the test-out process.
What's Included
Your registration includes:
Complimentary access the full library of instructional videos for all Level 1 movements
Hard copy of the 100-page Student Manual
Access to the private AF Instructors Facebook group.
Access to Mike Fitch's tutorial series reviewing the Call Out language used in AF
Certificate of Completion, including proof of participation for Continuing Education credits.
Workshop Preparation:
The workshop is open to persons of all skill levels. You should be physically fit enough to support your own bodyweight in quadrupedal position and be medically cleared to participate in physical activities. Attendees must be at least 18 years old.
Upon registration, you will receive access to a welcome video, the Level 1 tutorials, and other pre-workshop information.
Continuing Education Credits
The Level 1 course is approved to provide continuing education credits from: ACE 1.1 CEUs; National Academy of Sports Medicine (NASM) 1.1 CEUs; Athletics and Fitness Association of America (AFAA) 11 CEUs; UK Registered Exercice Professioanla (REPS) from PD:Approval 10 CPD; New Zealand Registered Exercise Professionals (REPs) 13.75 5 CPDs; UAE REPS; Canfitpro – 8 canfitpro CECs (Assesement & Exercise Portion: 4 PTS; Program Design Portion: 4 PTS); Fitness Australia – 9 CECs pending renewal; Physical Activity Australia 3 PDPs.
Who and Where:
This workshop will be taught by Animal Flow Master Instructor Sascha Mueller.
Movement assistance and Portuguese translation by Master Instructor Paulo Fernandes.
The event will be hosted at CrossFit Aveiro, in Aveiro from 10am to 4:30pm on Saturday and Sunday.
Cost and Payment Plan Options:
Regular cost for the Level 1 Workshop is $595 USD. If you are paying in a foreign currency, the conversion is done automatically at checkout.
Early Bird price of $545 until January 15
Payment plans available: You can register with a 50% deposit. You will receive an email reminder to pay the balance 2 weeks prior to the workshop (February 5). Payment plan only available until January 29. Note that we do not collect credit card information and thus cannot automatically rebill you; you will need to click on the balance payment email to make the second payment.
Cancellations/Refunds:
We plan to hold this workshop in-person on the scheduled date. However, we must also be prepared to react to changes in circumstances due to COVID-19. It is possible that a workshop may have to be rescheduled if government regulations require closing of venues or other restrictions, and/or restrict travel in a way that makes the workshop impossible to hold. If a workshop is postponed due to COVID or other unforeseen circumstances, you will be offered the option to transfer to the future workshop or to take the workshop online. If you are absolutely unable to transfer to one of the future options, you can request a refund. If a workshop must be postponed due to circumstances beyond our control (such as COVID-19 restrictions), we are not responsible for any travel or other costs you may have already incurred. If you plan to travel to attend a workshop, we suggest obtaining travel insurance.
If a workshop remains scheduled to take place, but you are unable to attend due to COVID-19 travel restrictions, or due to infection or exposure, you can transfer the full value of your registration payment to a future workshop. If you request a refund in lieu of transfer to a future workshop, the following terms apply: If there are more than 30 days to workshop, 100% of registration minus $20 processing fees provided; if there are 14-30 days to workshop, a $50 cancellation fee is applied; less than 14 days to workshop a $100 cancellation fee is applied.
We understand that many unforeseen circumstances can occur, particularly when COVID-19 is involved. That is why we offer to transfer 100% of your payment to another workshop. However, if you must receive a cash refund instead, we need to apply the referenced processing fees in order to cover the costs we cannot recover for canceled registrations.